Innovation has become a real engine of growth and stock market value in the image of Amazon. Many companies now want to improve their competitiveness by using an external innovation consulting firm. Innovation consulting is a discipline that has only emerged in the last two decades with the democratization of new digital technologies. Its goal is to provide strategic solutions and recommendations to a company to improve its development. Today this approach has evolved thanks to a new formula that teaches the customer to innovate by himself: it is the lab or innovation studio.
Innovation consulting firm or studio and innovation lab: what difference?
When a company wants to hire an external organization to support its growth and innovation chain, it can go to a traditional innovation consulting firm or an innovation studio such as Schoolab. What is the difference between an innovation consulting firm and an innovation studio?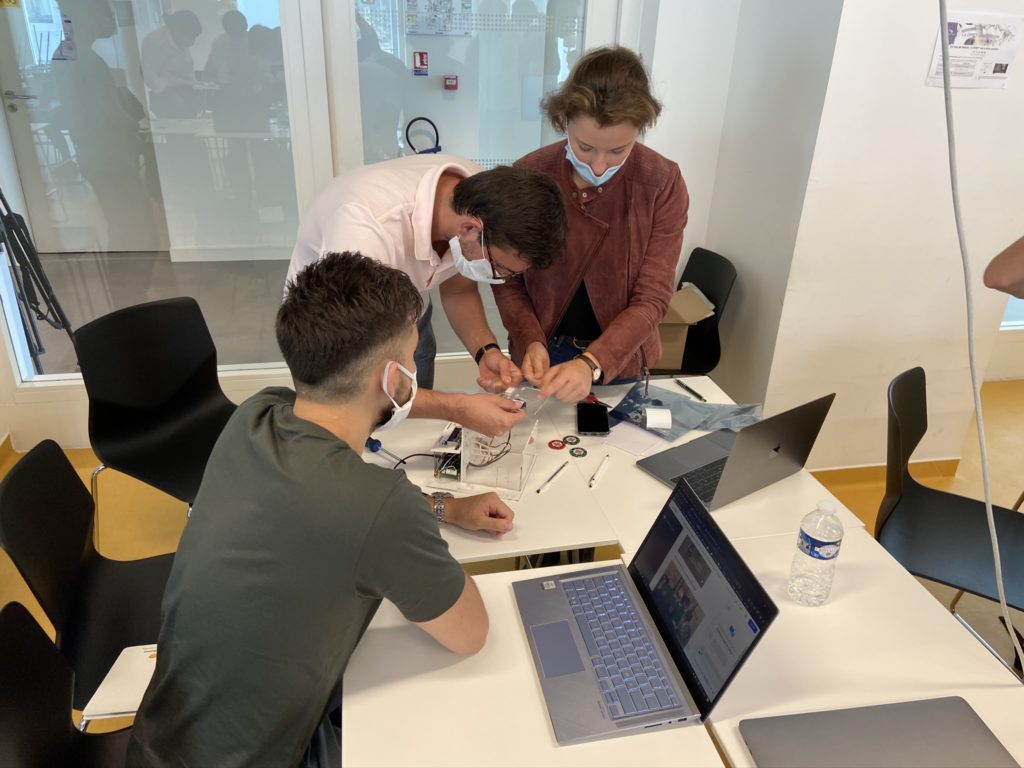 Get your in-house teams into skills with an innovation studio because innovative methods are often put in place, such as the Design Thinking method. Thus, the teams are an integral part of the project, thinking, designing and implementing concrete and launching. While an innovation consulting firm will instead rely on external experts or consultants, this will not encourage the sharing of skills and the appropriation of ideas by your teams. In addition, the studio or innovation centre benefits from an ecosystem from which it can draw in order to assemble a multidisciplinary team on your projects. For example, you can move faster in launching your innovative product with the participation of students, startups, researchers or intrapreneurs.
Reason #1: Co-build its innovation strategy with experts
The method of accompanying an innovation studio puts at the centre the co-construction and horizontal collaboration of all stakeholders in an innovation project. Even upstream, you will be able to define together the objectives of the innovation strategy: innovate in your products, integrate new tools or management methods, change working methods or places, anything is possible. Then, an innovation roadmap will be created to be able to project you in the realization of the mission. Then, this is the main advantage of using an innovation studio, is that you will be able to test your innovative project or product very quickly. Thanks to the Design Thinking method used at Schoolab, for example, user testing is always done for rapid and iterative prototyping.
"It's really a method that allows you to work effectively with a specific goal. This anchors the notion of an iterative loop and ensures that we don't create a product that is disconnected from users," explains Pierre Granier, Head of Cross-Cutting Projects at Schoolab.
Reason #2: Generate innovative product concepts by organising a corporate hackathon with students
Since 2017, more than 20 hackathons have already been organized by Schoolab with various partners such as large groups, public bodies and large schools. This has brought together more than 3,000 participants and achieved more than satisfactory results with innovative product or concept launches.
A hackathon allows you to create an emulation around your project and to have it worn collectively for a specific purpose and above all quickly. Whether in 24 hours or 48 hours, organized hackathons are also a way to boost your employer brand by recruiting new talent.
Practical case of innovation strategy via hackathons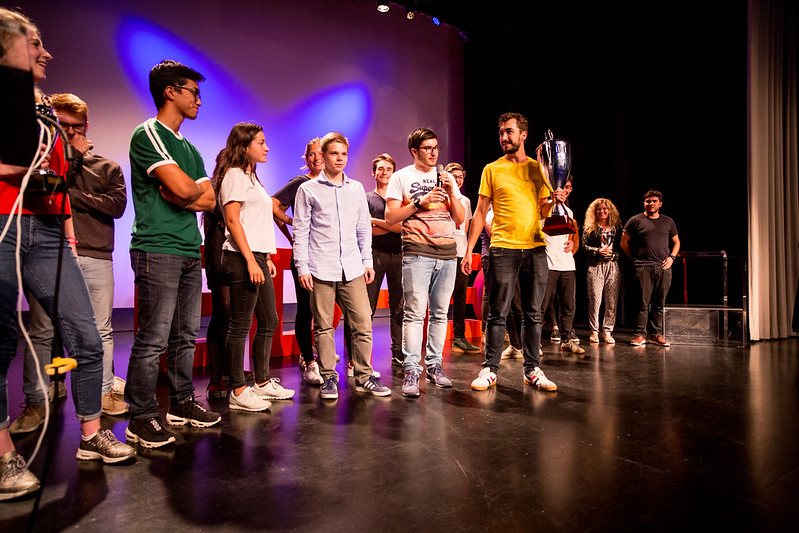 Last year, Schoolab worked with the EDHEC school in Lille to organize and animate its big hackathon for the new year. The accompaniment was done in 360 degrees with the design of the event and the identification of the school's themes. Then, the Schoolab team created many editorial resources to assist students in understanding the issues discussed. Finally, it was a hackathon that lasted 30 hours and brought together 700 participants such as designers, investors or engineers with 3 finalists who were able to pitch their final project.
Reason #3: Launch innovative products with agile Lean Startup or Design Thinking methods
The innovation studio Schoolab has been supporting large groups in their innovation strategy for several years through innovative methodologies that allow them to work differently to bring out disruptive ideas, design innovative products or develop a new offering.
"The Design Thinking method allows the user to be placed at the centre of the problems and above all to practice listening and empathy,"says Yves Lehmann, Partner at Schoolab. "For example, for our early stage startups, the Schoolab method has made a real difference. And personally, I find it super rewarding to hang out with people who "talk" about design thinking… and nice too."
Reason #4: Launching open innovation partnerships with startups
Going through an innovation studio will be an opportunity to train you in open innovation and integrate it into your project management methods. The ultimate goal is to demystify the world of entrepreneurship but above all to seek synergies with innovative startups. With Schoolab support in open innovation or open innovation, for example, you can better understand the strategic issues in your sector and above all determine the potential for development to stay on the margins of trends and not be fooled by the competition.
It is above all a way to innovate more quickly and to set up a project that could have taken several years in just a few months, with rapid prototyping and testing with real users.
The approach of a startup hackathon is also part of open innovation to learn methods that have proven their worth in agile startups and also to forge partnerships. In the end, this allows for a better acculturation of your teams to this method of reflection. Finally, you also have the opportunity to launch an innovative product by partnering with a startup.
Reason #5 to choose an innovation studio: Go on Learning Expedition in the most innovative hubs on the planet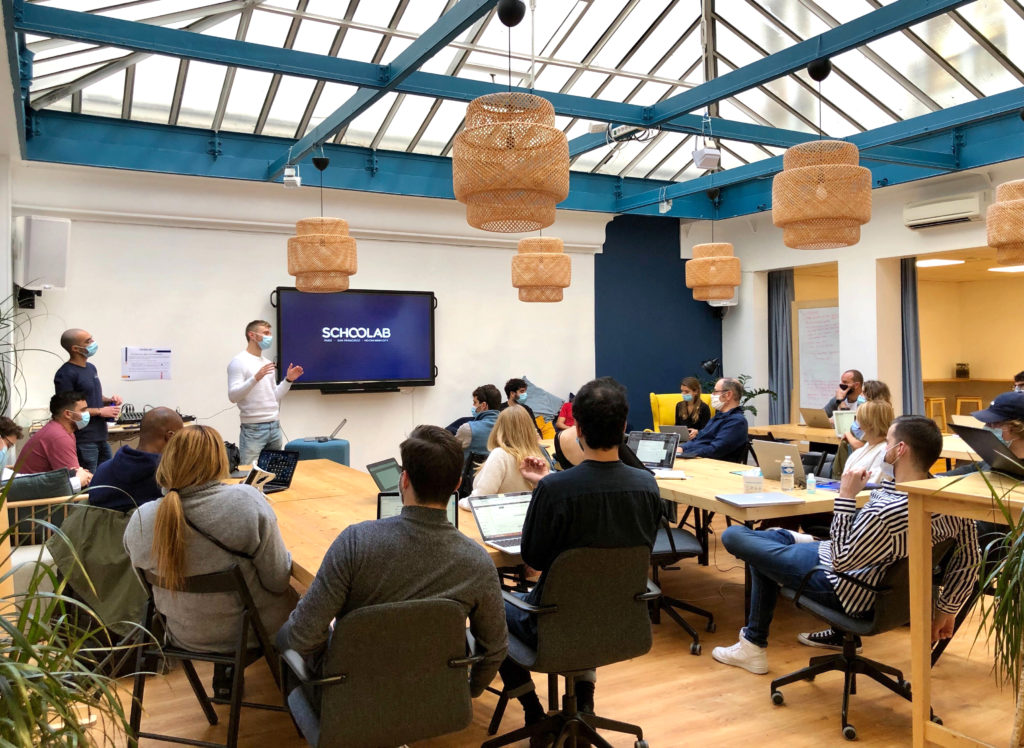 The aim of the learning expedition is to show a place of innovation for an unprecedented moment of immersion in the heart of a strategic center that has seen the birth of the most beautiful innovations, in France but also in Silicon Valley or in other countries. For example, you can do a learning expedition to Station F in Paris to discover their startup support program, see inspiring conferences or meet entrepreneurs who will share their journey. Or you can do a LEX in Silicon Valley to discover the latest technologies of 3D printers or biotechnology for example. Schoolab organises the tailor-made course of your learning expedition from A to Z.
Practical case of Learning expedition in fintech in Africa
In 2018, a major banking group has called on Schoolab to organise a LEX in the fintech sector in Africa. The aim was to grasp the challenges of new innovations that will shake up the banking sector in the years to come.
Use the Schoolab Innovation Lab to accelerate your innovation strategy
Choosing an innovation studio to accompany you means surrounding yourself with a strategic partner such as Schoolab. The studio is a pioneer of Design Thinking in France and a major player in innovation for 15 years. Contact us now to discuss your innovation issues and strategies.