What a journey! Since Schoolab's creation 15 years ago, its founders have dreamed of Japan as the world leader in innovation. After years of exchanging with various contacts and stakeholders, things suddenly took off in the second half of 2019, with 3 events in 6 months.
Shibuya QWS, the Japanese innovation hub
Tokyu Group undertook a deep renovation of the Shibuya district in Tokyo, with the ambition to make it Tokyo's – and more broadly Japan's – innovation center. For this reason, they founded Shibuya QWS, dedicating the whole 15th floor of the Shibuya Scramble Square building inaugurated in November 2019 to this innovation lab.
Shibuya QWS – the acronym for "Question with Sensibility" – is a place where mindful and creative people gather, where ideas cross many types of borders, where art meets innovation. They built a network of corporate partners, the most prestigious universities of the Tokyo area, and innovation actors.
The purpose of this project is to make Shibuya the Japanese "Silicon Valley" on the same level as London's Silicon Roundabout or Paris' Silicon Sentier. With their first need being how to implement concrete operations, Mr. Ryosuke Toura, Executive Officer of Tokyu Group, was quick to entrust Schoolab and Knowledge Associates Japan to start a long-term collaboration.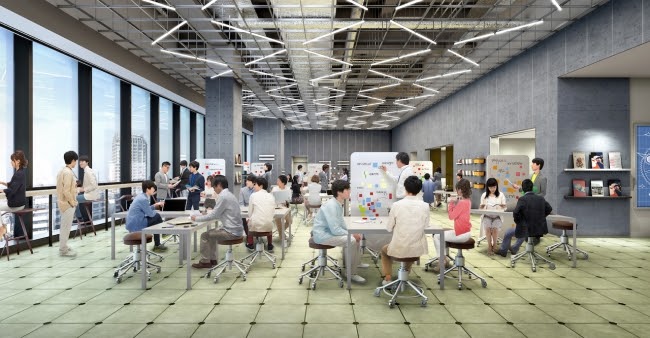 The Hackathon: our first operation to help QWS achieve their goal
Our first step with Knowledge Associates Japan was a 2-day hackathon. This hackathon would account for an MVP (Minimum Viable Product) for longer-term programs in order to build a lasting relationship with Shibuya QWS. Scheduled for June 2020, the situation with COVID-19's pandemic situation made it evolve to a fully digital experience.
The struggle of the COVID lockdown in France and Japan turned the initial plan into a 2-week digital program thanks to the fruitful collaboration with Naoki Ogiwara, CEO of Knowledge Associates Japan. Thanks to 3 collaborative online tools, we were able to completely digitize the Hackathon.
Two corporate enterprises with different challenges
Two large Japanese companies were participating in this hackathon called "Innovation across generations": Tokyu Corporation and DeNA – Delight Ventures Inc.
Sustainability in the heart of Tokyo
Tokyu Corporation's main mission is to open up towns and provide them with rail access and other real estate infrastructure. One of the main issues of the company's Design Future Lab is the circular economy. Achieving a circular economy is inevitable to solve environmental issues like global warming, air and water pollution, and waste problems that are urgent issues for all nations.

Their challenge for this hackathon was to build an understanding of the Tokyu ecosystem (residents, places, economic activities, systems, and interactions) to improve the circularity of energy, wastes, and cutting unnecessarily consumed goods.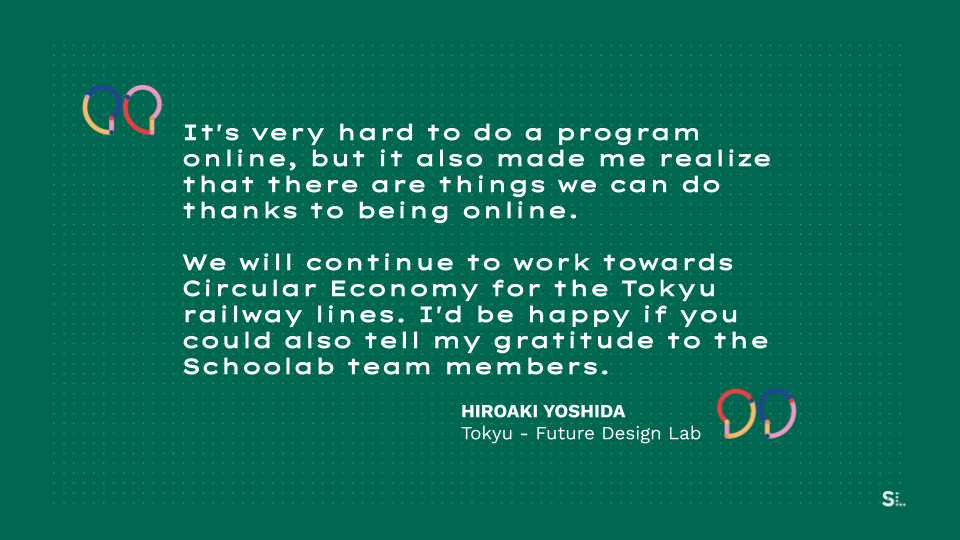 Providing solutions for Japan's growing ageing population
DeNA – Delight Ventures Inc. is a venture capital fund that aims to lower the barriers for entrepreneurship in Japan with a particular focus on social and environmental challenges, helping to put the Japanese innovation ecosystem on the global map. For this 2-week hackathon, Delight Ventures wanted to explore a solution to support the growing eldery population in Japan (and in the world).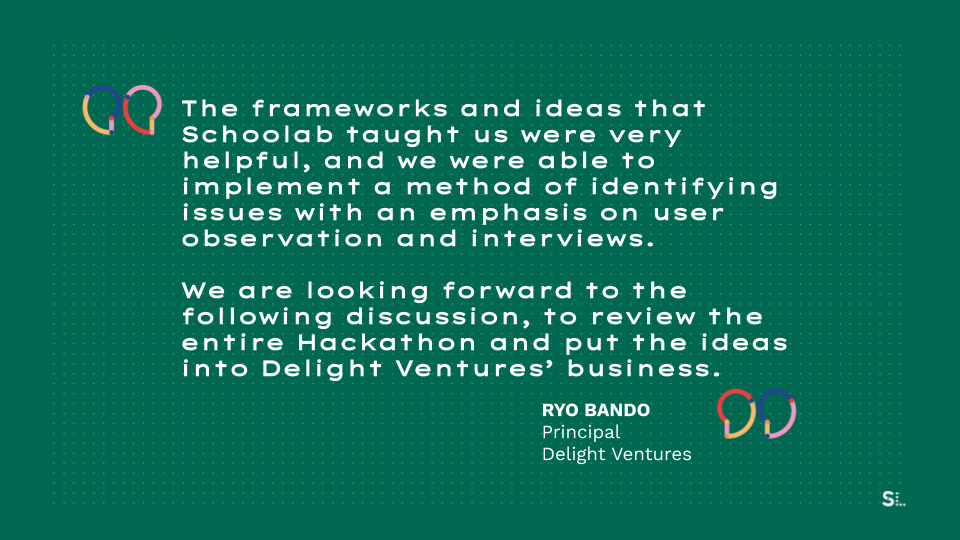 Innovation across generations: a successful Minimum Viable Product (MVP)
To build teams that would create and iterate fast and efficiently, we brought out Schoolab's best recipe: mixing corporate managers with students coached by experienced consultants and successful entrepreneurs from Schoolab's global network. For this to happen, we called on students from some of Tokyo's best universities: Tokyo University, Tokyo Institute of Technology, Keio University, Waseda University, Tokyo City University, and Tokyo University of the Arts.
Since the beginning of August and during 2 consecutive weeks, 4 multi-disciplinary teams of students and corporate managers discovered new opportunities and designed low-fi prototypes around Circular Economy & the Silver Economy. In the end, 20 to 30 students and 6 corporate employees worked side by side to answer Tokyu and Delight Ventures' issues.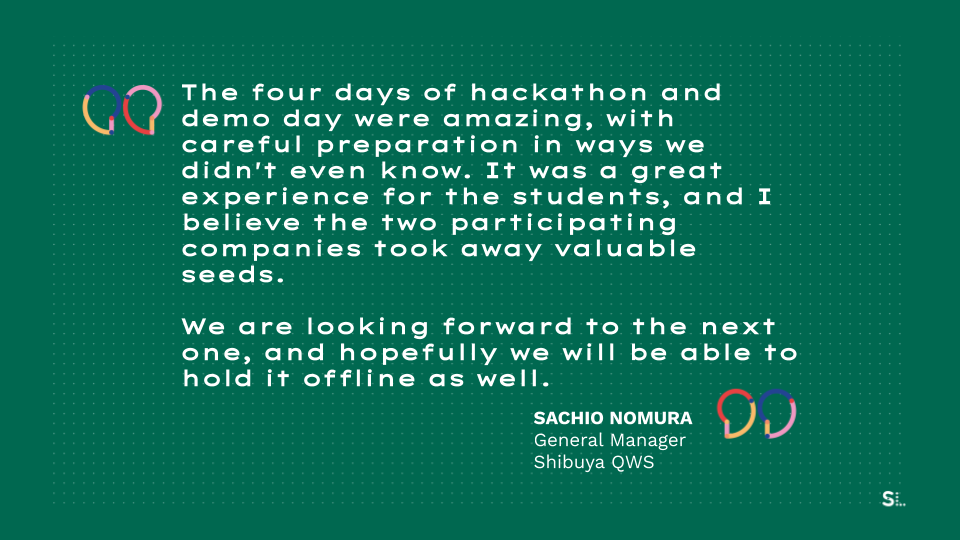 For them, we designed a tailored program, fully run in both English and Japanese, made up of 2 coaching sessions and 4 sprints for methodology learning and fast execution: design thinking, observation analysis, creativity and conception, rapid prototyping for some of them. I was thrilled to see the participants' commitment and enthusiasm in every part of the program!
The Demo Day where participants from opposite sides of the world come together
After 2 intensive weeks through Shibuya QWS' Design Hackathon journey, it was time for the 4 teams to showcase their works. We invited world class jurors from all backgrounds and countries: Julien Fayet, Co-founder & Managing Director of Schoolab; Alex Odajima, CEO of EDGE of Innovation, LLC; René Carraz, Associate Innovation Professor at Toyo University; Taro Sengoku, CEO of Rewired and Director of Future Center Alliance Japan; Atsuko Hirobe, Program Manager at Shibuya QWS.
They would vote for the projects according to 4 criteria: observation & insights, creativity & originality, test & prototype, and of course, pitching skills since it's the international sport in the startup ecosystem.
The Demo Day gathered participants from two sides of the world online: we were amazed to see it happen live. It turned out to be quite a flawless experience.
Team Keyaki (powered by Tokyu) came up with Mask-CO, a mask-recycling device – quite useful in this COVID context.
Team Fuji (powered by Delight Ventures) introduced Sooner market, to help elderly people with grocery shopping and social interaction.
Team Matsu (powered by Tokyu) used the straw millionaire tale (Warashibe Choja in Japanese) to create the Warashibe Locker to swap things that you no longer need with useful objects.
Team Sakura (powered by Delight Ventures) wanted to support elderly people by helping them understand the use of a smartphone in a safe and responsible way. The purpose of their solution, Smartphone School.
Shibuya QWS x Knowledge Associates Japan x Schoolab Asia: what's next?
Thanks to this hackathon, we were able to create synergies between corporate enterprises, universities, and entrepreneurs. This was a competitive event in which collective intelligence made possible the creation of functioning products that can therefore be developed and implemented in your own company.
We are currently working on the second version of a hackathon that will take place at the beginning of 2021: we are now ready for any situation and cannot wait to reiterate the experience! Schoolab's collaborations with Japan, have only just begun.
If you want to join this fabulous journey alongside the best of Japan and France's innovation community to accelerate your business with new ways of thinking and creating, let's get in touch 👇
Quentin and Yves
Contacts
Quentin Frécon
CEO
Schoolab Asia
quentin.frecon@theschoolab.com
Yves Lehmann
Partner and Japan country manager
Schoolab
yves@theschoolab.com
Naoki Ogiwara
CEO
Knowledge Associates Japan
naoki.ogiwara@knowledge-associates.com